PAY INSTANTLY WITH A SECURE E-CHECK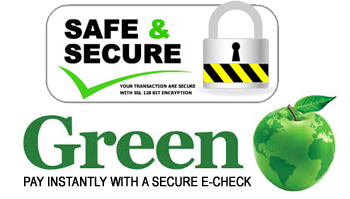 The NEW way to pay SAFE and SECURELY!
Completing E-check information is just as safe and secure as every other check you have ever written. It is just as safe as writing a check by hand, except your typing in your information over a verified secured connection and paying through "Green.Money" payment gateway system.
All you need to pay securely by E-CHECK is:

Your ROUTING NUMBER
Your BANK's NAME
Your CHECK NUMBER

Your ACCOUNT NUMBER
IT'S JUST AS SAFE AS EVERY OTHER CHECK YOU HAVE EVER WRITTEN!
You can find your ROUTING NUMBER and ACCOUNT NUMBER and CHECK NUMBER as shown below: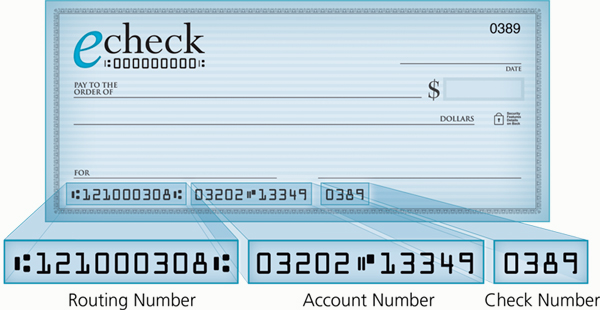 If you have any questions or concerns please contact us or call us on 760-321-3092 and we will be happy to assist you or take your order by phone.
---
SPECIAL NOTES ABOUT E-CHECK PAYMENTS:
1st ensure that your bank allows these type of E-Check Transactions.
(Note ONLINE ONLY Banks and certain other banks do NOT accept E-Checks)


When paying with a Green Money E-Check, the name and billing address for your payment must match the same on the bank account you are using for payment. Any discrepancies could cause your E-Check payment to be returned to us unpaid.

The 1st time that you pay using a Green Money E-Check, your order may be held for up to 5 business days pending payment clearance that funds have been deposited in our  account. Once we are notified the funds have cleared, your order is immediately shipped.
If we are waiting for your payment to clear: PLEASE HELP speed the process by emailing us a physical copy of the actual Check image ["Jpeg" format] when it clears your bank on your end. These payments clear on your end first before they clear on our end – this means your order will go out sooner!
EXISTING REPEAT customers who have used Green Money Echeck payments before do not experience a delay, orders normally ship within 24 to 48 hours, as your bank and the payment processor are used to you using E-checks

and you have a track record of using E-Checks with them

.
A returned Green Money E-Check (for any reason) is subject to a $12.00 charge-back service fee and your account will be "Locked" until any outstanding debts are cleared and paid in full. We will make several attempts to resolve returned Green Money E-Check issues prior to turning the matter over to collections.
---
If for whatever reason you wish to order the "Old Fashioned Way" by MAIL ORDER instead, then please CLICK HERE