WHAT YOU NEED TO KNOW ABOUT CHARGEBACKS & RETURNED PAYMENTS
Returned checks and returned payments are known as chargebacks.
We like most merchants take chargebacks very seriously. Remember it is Federally YOUR RESPONSIBILITY to ensure the checks and payments you issue are honored.
A chargeback occurs either when a customer disputes a charge to their account or when your bank returns the charge usually due to insufficient funds or incorrect information provided, in any case the customers bank will then charge back the transaction amount to the merchant [HisAromas] and the merchant will also be charged a returned item fee of up to $100.00 .
Our rules governing returned payments and chargebacks are as follows;
HisAromas will make every effort to avoid chargebacks and collect on outstanding debts by providing supporting documentation to the issuing bank that the customer did in fact order and receive the goods they purchased and as necessary resubmit the outstanding charge to your bank or seek all alternative methods to clear the debt you owe to HisAromas .
 If a chargeback is initiated by you or your bank, there is ALSO a "returned item" bank chargeback fee of up to $100.00 which you will also be liable for.
Your account on the HisAromas.com website will be placed on a temporary "block", (at the discretion of management) until the outstanding debt is paid and cleared in full.
If a chargeback is initiated by you or your bank, and any outstanding debt or balance is not paid or cleared by you within a reasonable amount of time, we reserve the right to pass your outstanding debt or balance over to collections, and/or take court action to collect the debt.
We reserve the right to also report any outstanding debts to the 3 major credit bureau's, which may adversely effect your credit.

WHAT TO DO IF A CHARGEBACK UNFORTUNATELY OCCURS:
If a chargeback has unfortunately been initiated by you or your bank, or we have informed you that a chargeback occurred due to some other reason, then Call us on 760-321-3092 and speak with a customer care representative to address the situation at your earliest convenience so that no unnecessary action needs to be taken and the matter can be quickly and easily be resolved Or simply Email Accounts Department.
You will need to provide our accounts department with the order number and the information on how you intend to secure payment of the outstanding debt. Payments for outstanding debt (including "returned Item" bank fee of up to $100.00 will also be due) can either be sent to us as a "Postal Money Order" or "Cashiers Check" and sent to the address provided to you by our accounts department or sent to the address on our MAIL ORDER FORM.
Please be aware that once an outstanding debt for a chargeback is passed over to collections/credit bureau/and or courts, we are unable to reverse those actions, and you will then also be liable for all future collection costs associated with that process until the outstanding debt is paid in full. Hence, the sooner you contact us to quickly resolve the matter, the better!
ALWAYS REMEMBER:
If you see a charge on your statement that you believe is NOT yours, it is your responsibility to check with that "issuing charger" what the charge is for BEFORE filing any CHARGEBACK.

NOTE: We have a ZERO "Chargeback" tolerance. If you issue a "Chargeback" without correctly 1st seeking a refund or credit back to you, your online account with us will be BLOCKED until this debt is repaid in full.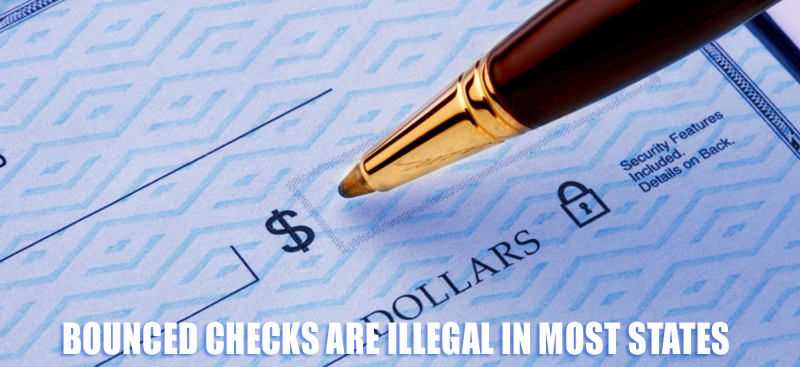 What You Need to Know About Bounced Checks
If you don't have enough money in your checking account, which is essentially a financial promise, it will bounce. These bounced checks are known as non-sufficient funds (NSF). Bounced checks can become expensive. They can hurt your credit scores for years or sometimes bouncing checks can cause you to be prosecuted and even arrested.
A bounced check typically becomes a criminal matter when the person who wrote it did so intending to commit fraud by not honoring the payment of those funds. This is a felony in most states.
 Remember it is ALWAYS best to settle outstanding debts than have it go against your credit history and credit score!